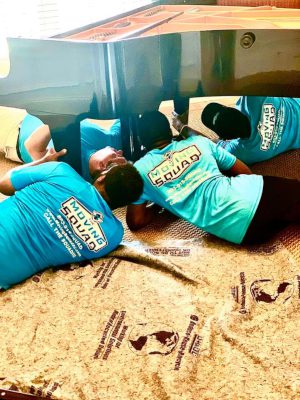 When you are getting ready to move, it can be overwhelming to think of all the boxes and belongings that you'll need to take care of! Here at The Moving Squad, our expert movers are all too familiar with what it takes to pack up, load, drive and unload a household full of belongings. We are aware that many people choose to pack and load their own belongings but understand that certain heavy objects should only be left to furniture moving experts. Here are some of these objects for your consideration:
Grand Pianos- Grand pianos are often more than a musical instrument, they are a focal point and piece of dramatic décor in a room! Grand pianos are very large, very heavy and because of their shape, very difficult to move. Our expert movers know how to move your grand piano without scratching the piano, walls or doors.
Player Pianos- While player pianos are slightly easier to move since doors more easily accommodate their shape, that doesn't mean you should chance moving a player piano on your own. Improper moving can cause your piano to go out of tune, ensuring you will also need a piano tuner once you have arrived at your new location.
Hot Tubs- Hot tubs are very large and often bulky. One misstep may not just void your warranty or protections you have on your hot tub but could potentially injure someone who is not a professional furniture mover.
Safes- Many people are shocked when they discover how deceptively heavy their safes truly are! Professional furniture movers know how to safely handle large and small safes alike, ensuring they will not damage anything during the move or your safe, which can be damaged during unprofessional moves.
If you have questions about furniture moving for large, bulky or heavy items such as those listed above for your property in Lexington, Columbia or the surrounding areas in South Carolina, please contact us at The Moving Squad today.